CMA || Center for Medicare Advocacy, Inc. - The Center for Medicare Advocacy, Inc., established in 1986, is a national nonprofit, nonpartisan law organization that provides education, advocacy and legal assistance to help older people and people with disabilities obtain fair access to Medicare and quality health care. The Center is headquartered in Connecticut and Washington, DC with offices throughout the country.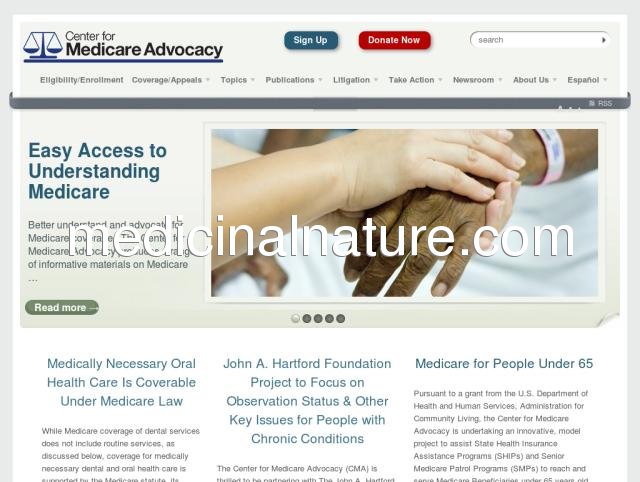 ---
Country: 205.186.179.146, North America, US
City: -118.3928 California, United States
Robert Haag - I wish the writing on the show was this good

While I am a huge fan of the show the books are so much better. Maybe because they only have so much time to tell storylines maybe it's the network all I know is that because of storylines in season 5 we cannot adapt these excellent books to the TV series and that is to bad.
dntexas - Harmful Scam...

I usually buy my skin care from my doctors office and have been spoiled by being told truthfully what to expect from a product. When I was approached at my health club and given this lengthy sales pitch, so full of promises, I guess I thought they were the same caliber as my doctor's group. Not so. After I bought the package I never heard from the sales person again. After spending almost $400...nothing. I used the Nu Skin Galvanic Spa and gels system for over 3 months and could see absolutely ZERO difference in the tone or tightness of my skin. All the hype about how this would plump my skin with new collagen production...I saw nothing. What I did get however, were big red bumps that broke out on my face, repeatedly. As it was summer and especially hot, I thought I was getting some kind of heat rash. Finally a trip to the dermatologist suggested that I was allergic to something I was using. When I stopped using the Nu Skin system, my skin cleared up. I'm 58 and have used a lot of different skin care products over the years and never once have I had an allergic reaction to anything. When I tracked down an email address to contact the sales person, she told me that another client of hers had the same reaction and that I needed to spritz water on my face before applying the gel and again over the gel. I tried that and it made no difference. My guess is that the gels are the problem and since my skin is pretty normal, I imagine a lot of others have had this same issue. I was so determined to get my money's worth out of this, but at last, I have to face the fact that I got scammed. This product is virtually worthless, unless you can put a value on big red bumps that take weeks to completely go away.